Your 2023 High Notes Are Coming
November 22, 2023
We're putting together a personalized highlight reel for artists to celebrate the past year of live music. Sharing your High Notes is a great way to show some love to your fans for their support, remind them about all the great times you shared, grow your Bandsintown community, and last but not least: give yourself a pat on the back.
Update your Bandsintown profile and make sure all of your events are added so we can take them into account. Verify your info by November 30th.
Continue reading
Two-Factor Authentication
September 11, 2023
Beginning October 1, 2023, all accounts will require two-factor authentication. Protect your account by turning on 2FA today.
Once enabled, you'll be asked to enter a unique code in addition to your password every time you log in. This unique code is generated automatically on the authenticator app and is only known to you.
Continue reading
New integration: Amazon Music Merch
August 3, 2023
Get your merch in front of more fans on and off the road with our new Amazon Music merch integration.
Continue reading
Apple Music, Apple Maps & Shazam Integrations
May 22, 2023
Apple Maps, Apple Music, and Shazam are now leveraging Bandsintown concert data to provide users worldwide with even more ways to find and attend your events.
As an artist or venue, you can take advantage of these powerful new features to get your Bandsintown events in front of millions of interested fans. Keep reading to learn more and make sure you're set up to showcase your events and sell more tickets.
Continue reading
Event Map on Artist Pages
March 28, 2022
Now it's easier for fans to view your whole tour at a glance and book their hotel in a few easy steps. All you have to do is add your events–we'll do the rest.
Artist pages now feature an event map powered by Stay22 showcasing all of your upcoming shows. Organized by date and location, fans can easily navigate the map and expand events they want to see details for. The map also shows fans the best hotel deals in the area and takes them right to booking sites so they can get to shows as easily as possible. 
Fans can view the whole tour, or select dates to see shows within a certain range and hotels in the corresponding locations.
*This is an extension of an existing tool which shows hotel deals on specific event pages. The new feature appears on artist pages, rather than event pages, and consolidates all listed events and hotel deals into one map.
Continue reading
Showcase your events on Shazam!
March 23, 2022
We've teamed up with Shazam to help showcase your events and connect fans with tickets. With this new feature, you can reach even more fans by displaying your events and ticket links the moment they Shazam your music. Learn more.
Here's how to get started:
1. Log in to your Bandsintown for Artists account.
2. Go to Profile » Links and add the URL of your Apple Music artist page (where can I find this?)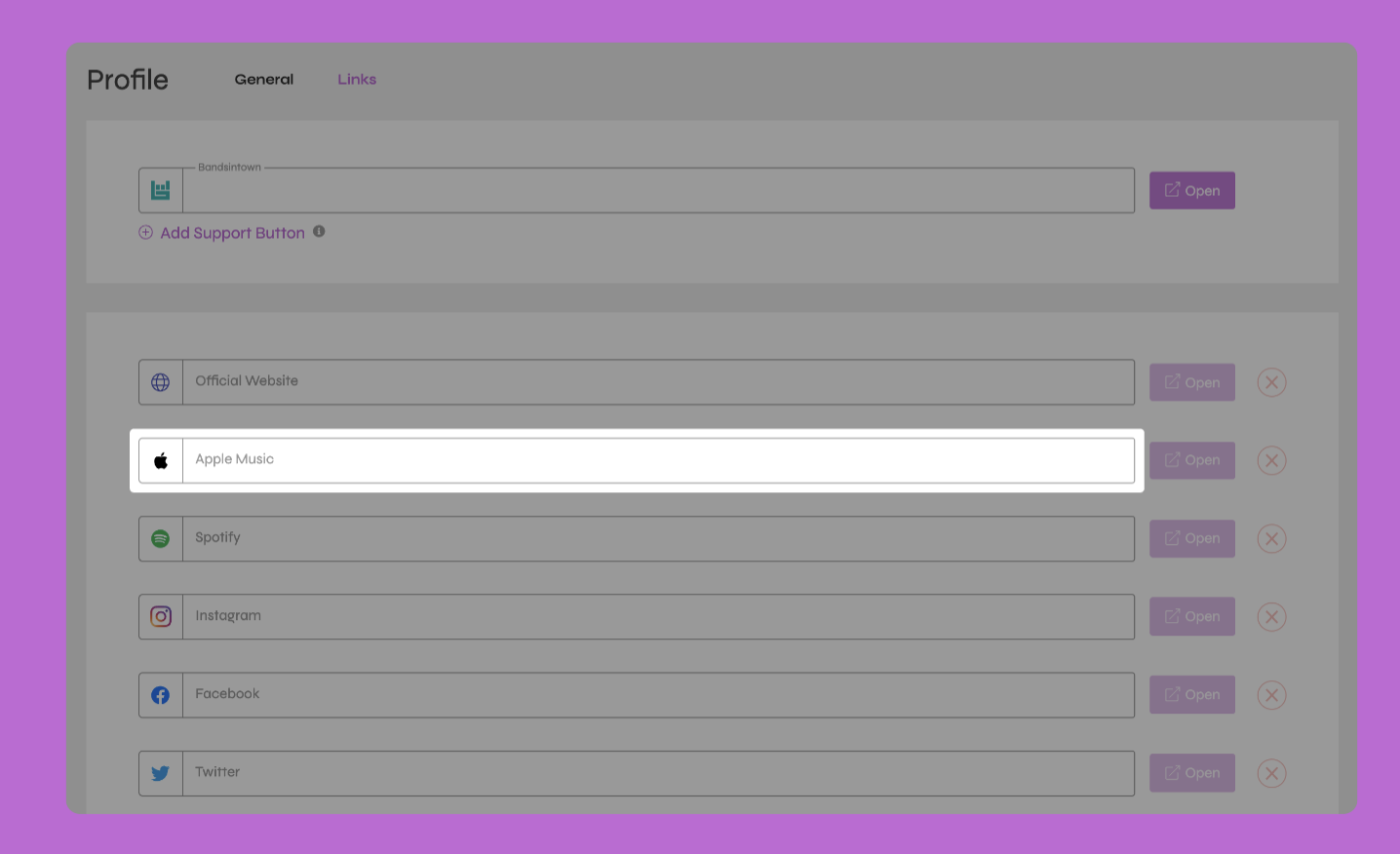 3. Go to Events and make sure to add your events so that Shazam can showcase them!
If you still have any questions, please visit our Help Center.
Continue reading